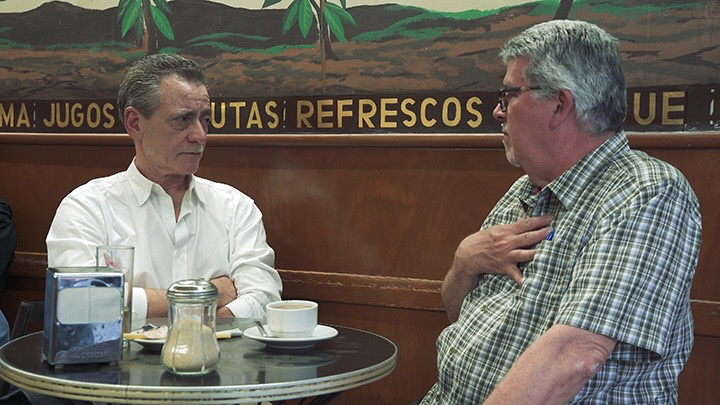 MEXICO CITY, 9 March 2017 — Keith Dannemiller (R) is a photojournalist and long-time friend from my days of covering Central America in the 1980s. At the time, and like many freelance journalists, he was based here and covered the region from this vantage point. Mexico City still is an excellent base of operation for journalists covering Mexico, Central America and the Caribbean. It's a great hub of communication facilities, air connections and political/cultural activity.
Keith was a tremendous help on this current project even before Matt Cipollone and I traveled to Mexico to film the pilot for the global series, "FREELANCERS with Bill Gentile." The documentaries explore and explain how freelance foreign correspondents are filling the void left by mainstream media cutting staff and closing bureaus around the world. He's been living in Mexico for the past 30 years, knows just about every journalist in the capital, and was super generous with his time and knowledge, steering Matt and I to the people featured in the upcoming documentary. So this picture shows "dos amigos." (Two friends.) Matt and I were extremely lucky to be able to count on the assistance and support of friends like Gerardo Carrillo and Keith Dannemiller in the making of the documentary.
Keith spends much of his time these days documenting the historic center of the Mexico City, sponsoring exhibitions of his work, and conducting photography workshops and excursions.
Having said that, he still takes on breaking news assignments. Just a couple of months after we had this conversation at a cafe near his home, a powerful earthquake rocked the city and killed hundreds of people. Keith spent the next several weeks on assignment making pictures of the destruction — and moving out of his home, which was severely damaged by the earthquake.
Photo by Matt Cipollone.