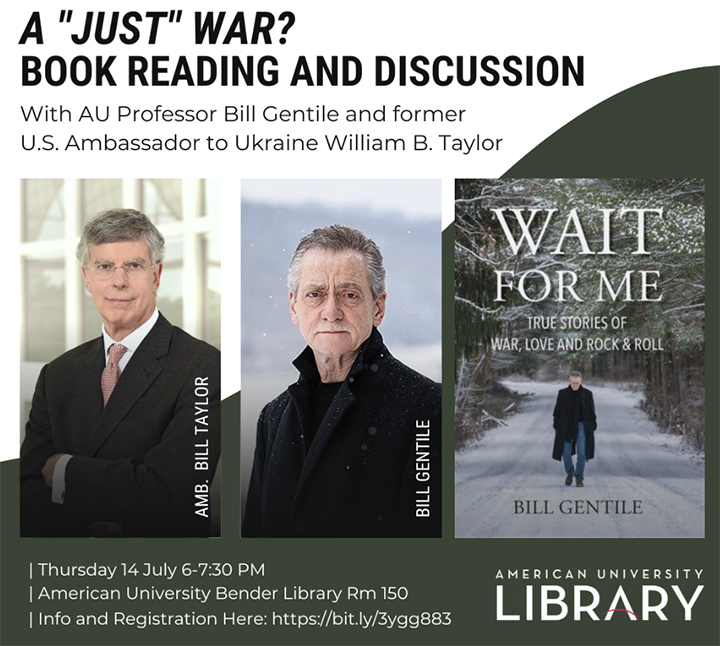 WASHINGTON, DC, 29 June 2022 — What do a crisis reporter and former U.S. Ambassador to Ukraine think about "just" wars and the current conflict in Ukraine? You are invited to join us for A "Just" War? to find out!
When: Thursday July 14th from 6:00 – 7:30 p.m.
Where: American University's Bender Library or virtually via Zoom. Register here: https://tinyurl.com/yckjxt45
Award winning journalist Bill Gentile and special guest Ambassador William B. Taylor will discuss "just" wars, Ukraine, and truth in conflict reporting during a special hybrid event. As the Ukrainian crisis rages on, Gentile the war reporter, and Taylor the diplomat, will strive to answer questions like "Is the West morally obliged to support Ukraine?" and "What role should journalism play in a time of war?"
American University Professor Bill Gentile has covered conflicts around the world over four decades including the 1979 Sandinista Revolution and the 1980s Contra War in Nicaragua, the civil war in El Salvador, the US invasion of Panama, and the wars in Iraq and Afghanistan. On July 14th, he'll share excerpts from his memoir "Wait for Me: True Stories of War, Love and Rock & Roll," that reveal the firsthand, frontline, human cost of war.
Ambassador William B. Taylor is vice president, Russia and Europe at the U.S. Institute of Peace. He served as the United States Ambassador to Ukraine from 2006 to 2009. A former Army captain, Taylor served in Vietnam and earned a Bronze Star. He's had a distinguished career as a public servant and diplomat. Taylor brings the unique perspective of soldier and diplomat to this exclusive event.
Agenda:
5:45 Doors open for in-person guests
6:00 – 7:00 Bill Gentile and Ambassador Taylor (Discussion followed by Q&A)
7:00 Book raffle for in-person guests
7:00 – 7:30 Meet and greet with refreshments
You are invited to join us in person or virtually. REGISTER HERE: https://tinyurl.com/yckjxt45
In-person guests see here for directions, a campus map, and parking information:
https://www.american.edu/about/visiting-campus.cfm
In-person guests will need to show a government issued ID and proof of vaccination for entry. We look forward to seeing you!
Bill Gentile