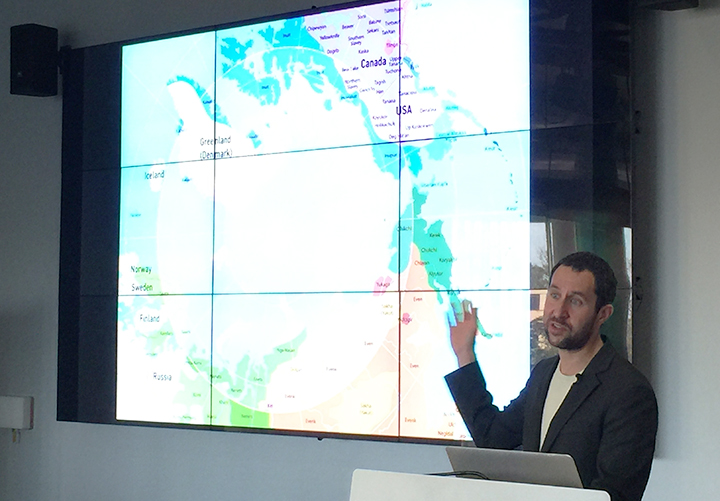 WASHINGTON, DC, 16 October 2016 — Science writer Eli Kintisch conducts a presentation on how the thawing Arctic may be impacting global weather patterns and climate change.
Sunday's event on climate change was the first of two this academic year, co-sponsored by American University's (AU) School of Communication (SOC) and the Pulitzer Center on Crisis Reporting. It is one of the products of the university's membership in the Pulitzer Center's "campus consortium."
In addition to a number of campus events, AU and the Pulitzer Center each year co-sponsor two student international reporting fellowships, each worth $2,500.00.
Since 2013, Kintisch has traveled to seven Arctic nations to witness and to document how the thawing Arctic may be impacting global weather patterns. We are proud to have hosted Eli and his work — on one of the most pressing issues of our time.
Kintisch is a contributing correspondent for Science magazine. A two-time MIT Knight Science Journalism Fellow, he covers climate change, oceans, the Arctic and has written for Slate, Nautilus, New Scientist and the Los Angeles Times. His 2010 book "Hack the Planet: Science's Best Hope—or Worst Nightmare—for Averting Climate Catastrophe" received a starred review from Publisher's Weekly. Earlier this year he was a Research Fellow with the American Association for the Advancement of Science's Center for Science Diplomacy.
To see a video of Sunday's entire event, click HERE.
(Photos by Bill Gentile)