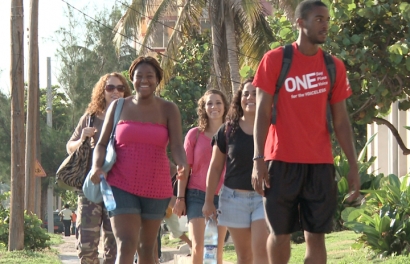 HAVANA, Cuba, 12 September 2011 — AU Abroad students arrive for another week of classes at Casa de las Americas, Cuba's premier cultural center.
The AU students are taking a total of five classes at Casa, four of them taught by Cuban professors. I am teaching my Photojournalism and Social Documentary class, a stepping stone to the methodology that we refer to as backpack journalism. The five courses are designed to provide students an immersion to Cuban culture and society.
In the picture are (from left) Emmalee June Kinard, Dara Jackson-Garrett, Chelsea Crandall, Cristina Khan and Paul Barrett. Missing is Edrain Ramirez, who arrived early.
(Photo by Bill Gentile.)