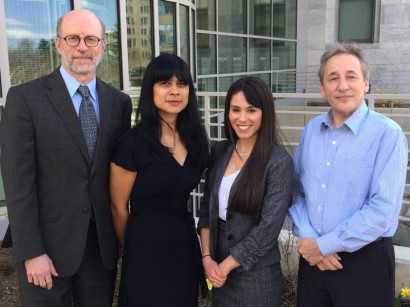 WASHINGTON, DC, 20 April 2015 — American University communication Ph.D. student Kara Andrade and graduating journalism major Julia Boccagno have been named 2015 recipients of the Pulitzer Center Campus Consortium International Reporting Student Fellowships.
From left are School of Communication (SOC) Dean Jeffrey Rutenbeck, Andrade, Boccagno, and Eric Hershberg, director of American University's Center for Latin American and Latino Studies (CLALS). The CLALS is a contributing partner to this initiative and its Luce Foundation-funded work on religion and Latin American affairs is supported by Andrade's research.
We all have worked very hard for this day. We are proud of this joint venture with the Pulitzer Center on Crisis Reporting, and we're excited about the students' work that will come out of this venture.
For details, see http://www.american.edu/…/2015-Pulitzer-Investigative-Fello…
(Photo by Bill Gentile)