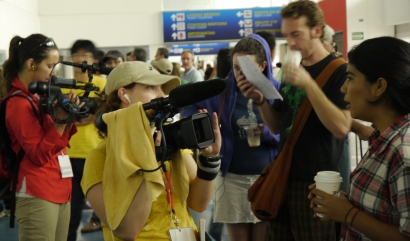 MANAGUA, Nicaragua, 25 June 2011 — Paloma Jackson (far left) and Martha Dodge (with yellow cap) interview members of Bridges to Community at Managua's international airport as they wait for the arrival of U.S.-based volunteers who will build houses next week in the town of Ticuantepe. Paloma and Martha are in Nicaragua to participate in my Backpack Documentary Expedition.
(Photo by Bill Gentile.)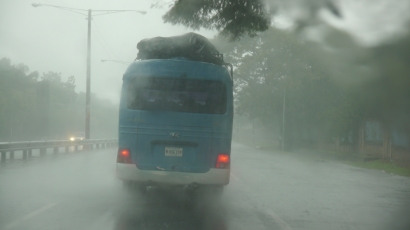 MANAGUA, Nicaragua, 25 June 2011 — I followed one of the two buses carrying volunteers associated with Bridges to Community from Managua to the colonial city of Granada, where they spent their first night of a one-week trip here. We got pounded with rain the entire way.
(Photo by Brad Allgood.)