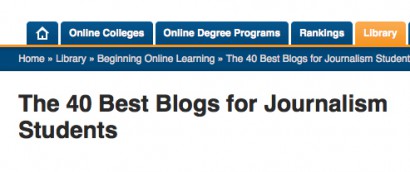 WASHINGTON, DC, 17 July 2012 — My Backpack Journalism Blog has been included in the list of "40 Best Blogs for Journalism Students," published by the "Online Education Database." The blog, http://billgentile.com/backpackjournalism, is Number 8 on the list, which you can see HERE.
An article associated with the list says, "Self-proclaimed 'pioneer' of backpack journalism Bill Gentile shares both his own personal findings as well as information about this interesting form of citizen reporting, for which he often hosts workshops."
I do take one exception to the listing, however. I don't know where the term "self-proclaimed pioneer" comes from. Having worked with Video News International (VNI), the first company in the United States to use small, hand-held cameras to generate programming for television, I feel that the term "pioneer" is appropriate for my role in this methodology, something that I don't need to self-proclaim.
At any rate, it's good to see that my work in the craft is recognized.