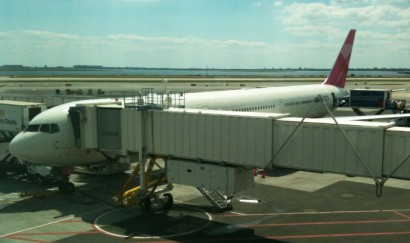 JFK AIRPORT, New York, 30 July 2013 – Connecting here from Washington, DC, for a flight to Moscow and then St. Petersburg, Russia. Flight crews ready the Delta jet for our journey.
The U.S. Department of State invited me to participate in the 4th meeting of the U.S.-Russia Bilateral Presidential Commission (BPC) Sub-Group on Mass Media, which takes place this week in St. Petersburg, Russia. The draft agenda for the two-and-a-half day meeting includes discussions on citizen journalism, journalism education and training, and media coverage/perceptions of Russia and the United States. Past U.S. delegates have hailed from prominent media organizations, academia, and journalism non-governmental organizations.
I've been tasked with presenting on "citizen journalism," a methodology I've been teaching and preaching for some time now, and a methodology made possible largely by the revolution in technology. I plan to show a couple of pieces made by students of mine in Cuba, and to discuss how young people in particular, equipped with hand-held digital tools, now communicate globally, instantly and in a language, the visual language, that everyone can understand.
It's the same language that I teach in my classes at American University, and in my Video Journalism Workshops.
(Photo by Bill Gentile)