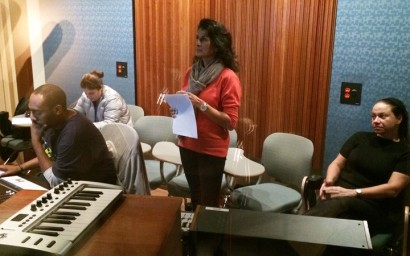 WASHINGTON, DC, 12 October 2014 — Ella Patel (center) reviews narration she is recording for our upcoming documentary, "To Catch a Dream." The film follows four Afghan girls as they journey from their war-torn home country to Hong Kong, where they compete in an international competition of commercial law.
From the far left are Audio Tech Manny Cooper, the film's Executive Producer Laila Rossi, Narrator Ella Patel, and Editor Esther Gentile.
We taped the narration at American University's Kreeger Building, a state-of-the-art facility.
(Photo by Bill Gentile.)