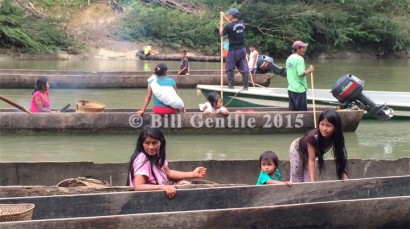 SARAYAKU, Ecuador, 1 July 2015 – This is one of the more extraordinary scenes I captured during my three-week visit to the Ecuadoran Amazon. Here, in the autonomous, indigenous region of Sarayaku, Kichwa Indians of the seven communities that make up the region join a fishing expedition on the Bobonaza River.
Members of the communities pepper the river with the leaves of specific plants that induce a temporary state of semi-paralysis in fish, allowing the villagers to capture them with harpoons, nets and even machetes. Both a solemn and a joyous occasion, the harvest once was held each year. But the dwindling stock of fish has forced authorities in Sarayaku to limit the event to once every two years.
I went to Ecuador on assignment for American University's (AU) Center for Latin American and Latino Studies (CLALS) to do a short film on religion and the environment. The Kichwa Indians who live in this area have a special relationship with the jungle. While explaining that relationship, my Kichwa guide referred to the jungle as "the mother," from which life emanates. It's more a spiritual relationship than a religious relationship.
My guide also explained how this region has come to be known as "the epicenter of resistance" to efforts by the Ecuadoran government and foreign petroleum companies determined to extract oil lying underneath the jungle floor. I'll have more on my guide, Gerardo, in future posts and, of course, in the films that emerge from the post-production process in which I am engaged right now.
What a fascinating process: reviewing, watching transcribing hours and hours of video to make the final products. In my Backpack Documentary classes at American University's School of Communication, I refer to this process as "the creative treatment of actuality," or "the creative treatment of reality." That's what I'm doing now. Figuring out how I can "treat" the trove of moving images and sound that I captured during my journey to one of the richest forests in the world.
Thanks for following this journey.
http://videojournalismworkshops.com