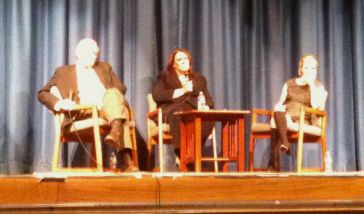 WASHINGTON, DC, 5 November 2010 — Former White House Press Secretary Dana Perino (right) spent much of last night's discussion criticizing U.S. media for alleged misbehavior.
I found this absolutely extraordinary, coming from a person who worked for George W. Bush, the president who misled the country into what many consider the greatest single catastrophe in the history of U.S. foreign policy — the invasion and occupation of Iraq. At a discussion designed to help young Americans discern between truth and falsehood in the age of information overload, Perino failed to mention that her employer prohibited the publication of photographs showing coffins containing the nearly 5,000 American servicemen and women killed in Iraq.
During the discussion, Perino did point out that Iraq now boasts numerous daily newspapers, in contrast to pre-invasion days when the country had only one. I wonder if the hundreds of thousands of Iraqis killed and wounded in violence unleashed by the invasion find much comfort in that statistic.
Participating in last night's discussion was Michael McCurry (left), White House Press Secretary under President Bill Clinton. The event, "Briefing the Press: Former White House Press Secretaries Compare Notes," was moderated by Candy Crowley of CNN. It was hosted by The News Literacy Project at Walt Whitman High School. (Photo by Bill Gentile)