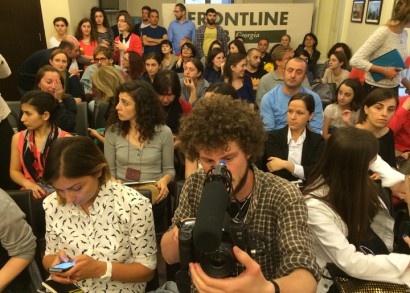 TBILISI, Georgia, 21 May 2014 – This is the group gathered at my presentation on backpack journalism at Frontline Georgia, a partner of the London-based Frontline Club.  I was invited by the U.S. Embassy here to conduct a series of workshops, presentations and exchanges on backpack and citizen journalism, on the importance of a free press and on raising one's voice to make powerful videos with meaning.
The group had lots of interesting questions:
– How does one find the time, the tools and the wherewithal to support him/herself while working outside the realm of the established, corporate media?
– What is the most viable economic model for independent, backpack journalists?
– Did I have special training to prepare for the emotional, physical and psychological trauma of covering conflicts from Central America to Afghanistan?
– How does one deal with the emotional, physical and psychological aftermath of covering conflict?
– Will video journalism replace print journalism?
I tried to answer these, and other questions during the two-hour presentation.
What an extraordinary privilege it is to converse with such a smart, vibrant, interested group of people. I am so proud, and so humbled, and so grateful for this opportunity, and for so many opportunities like it.
(Photo by Bill Gentile)