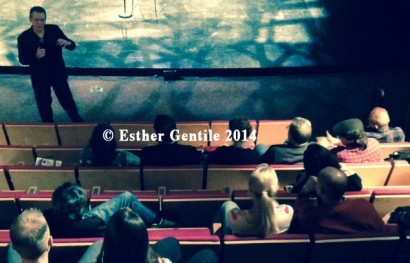 WASHINGTON, DC, 6 December 2014 — I was honored to moderate a discussion of the film, "Juan de los Muertos," or "Juan of the Dead," shown at GALA Hispanic Theatre in the nation's capital.
The screening was part of the "La Nueva Ola: Films from Mexico, Cuba & Spain" festival that ran from 3-7 December. A Spanish/Cuban co-production, "Juan de los Muertos" is the first zombie film ever made in Cuba.
The New York Times called it "a daringly irreverent satire" which suggested that, "52 years of socialist rule have turned Cuba into a zombie state." The fact that the film was included in an officially sanctioned festival to which Cubans flocked to see it, also suggests that the film "has become an improbable landmark in the gradual opening of Cuban culture," the Times said.
Whether you agree with the Times' assessment or not, "Juan de los Muertos" is a funny, entertaining film that should not be missed.
The production was a powerful visual story that used intelligent editing and subtle dialogue to explore and to critique. Unfortunately, viewers unfamiliar with Cuba might find those subtleties difficult to understand.
(Photo by Esther Gentile.)