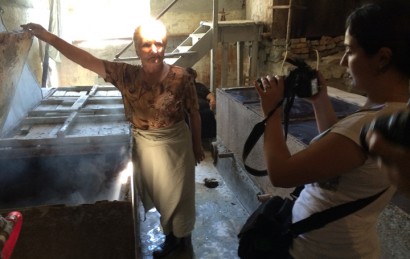 GURJAANI, Georgia, 27 May 2014 –- One of the students in my Backpack Video Journalism Workshop works on a project about a spa that includes a mud bath. In the picture, one of the employees of the spa demonstrates how she and her colleagues maintain the mineral-rich mud at high temperatures.
I'm in Georgia at the invitation of the U.S. Embassy in Tbilisi to give a series of workshops, presentations and discussions with professional journalists, journalism students and general public interested in raising their voices with powerful visual storytelling. The idea is that a free press and free exchange of information are essential components of any free, democratic society.
In the brief time that I've been in this country I've learned how journalists are threatened and pressured in ways that we in the West can only imagine. Only 26 years since it independence from what was then the Soviet Union, Georgia still is negotiating its way through the challenges presented by democracy. It's a fascinating, and perilous, time.
(Photo by Bill Gentile)