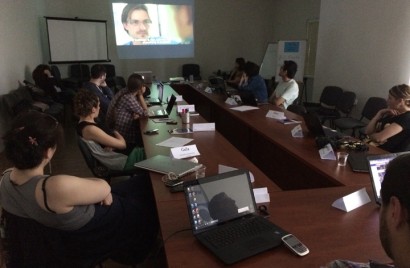 GURJAANI, Georgia, 26 May 2014 – Members of the Network of Information Centers watch one of my recent films on "God and Gangs in Guatemala" as part of my training here, a small town about an hour's drive from Tbilisi.
All the participants at this three-day workshop are interested in improving their visual storytelling skills, which is what my Backpack Video Journalism Workshops are all about. They are about raising your voice and making videos that rock. This is a particularly interesting group, as all of the members are young, idealistic journalists who want to hone their craft and make a difference.
Today we covered the visual alphabet, the progression from clip to story, and the Six-Shot System.
I'm in Georgia at the invitation of the U.S. Embassy in Tbilisi to give a series of workshops, presentations and discussions with professional journalists, journalism students and general public interested in raising their voices.
We're using various types of hardware and software in this workshop, because that's what's available to this organization, which is a kind of information cooperative. One of the things that I stress to all participants in all of my workshops no matter where I conduct one, is that the practitioner must be adept at using their own equipment.  Though there are similarities, every piece of gear is unique, and the best way to make the cameras do what you want them to do is to read the user's manual. Take the time to read it.
(Photos by Bill Gentile)