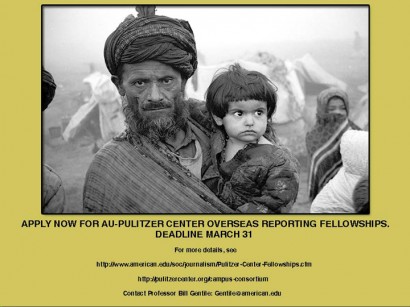 WASHINGTON, DC, 23 March 2015 — There are only eight days left before the deadline, at midnight on Tuesday 31 March, to apply for the AU-Pulitzer Center Overseas Reporting Fellowships.
This is a tremendous opportunity for American University, for the School of Communication and for all of our students. The fellowships are worth $2,500.00 each. AU and the Pulitzer Center will select two students for international reporting projects of their choice involving an under-reported systemic issue. One student will be selected from SOC, with a second student to be selected from the university at large.
AU's Center for Latin American and Latino Studies (CLALS) is a contributing partner to this initiative. One of the fellows will focus on subject matter related to the Center's work on religion and Latin American affairs.