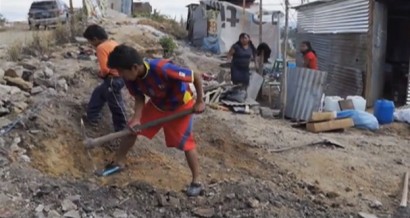 WASHINGTON, DC, 6 October 2013 –One of the most frequently asked questions I got from the men and women participating in my recent Backpack Video Journalism Workshop in Tbilisi, capital of the former Soviet Republic of Georgia, is: "What kind of camera should I use?" (See http://www.trust.org/item/20131003112356-8kley/?source=hpblogs)
And my answer in Tbilisi, or anywhere, is always the same: "Which ever camera best fits your specific needs and your budget."
Earlier this year I took on an assignment for American University's Center for Latin American and Latino Studies (CLALS). My task was to document the work of one researcher engaged in the Center's project on religion and violence in the region. The researcher is Robert Brenneman, author of the highly acclaimed book, "Homies + Hermanos: God and Gangs in Central America." An Assistant Professor of Sociology at St. Michael's College in Colchester, Vermont, Brenneman returned to Guatemala in January 2013 to conduct a follow-up to his book-related research.
Sadly, Guatemala now is one of the most violent countries in the world. It's a violence fed by staggering inequities that breed homicide, extortion and drug trafficking. It's not the kind of place where you want to flaunt expensive camera equipment – especially at night when, by the nature of my work, I knew I would have to work.
So I took two cameras, a main and a secondary.
The main camera is the Panasonic AG-HMC150. (See http://www.bhphotovideo.com/c/product/575992-REG/Panasonic_AG_HMC150PJU_AG_HMC150_AVCCAM_Camcorder.html)
This is a high-quality, hand-held camera with everything you need to generate professional, documentary-style films. With two XLR inputs for directional as well as wireless microphones, the HMC150 is versatile and easy to use. And unlike the Sony EX-1 (http://www.bhphotovideo.com/c/product/758895-REG/Sony_PMW_EX1R_2_PMW_EX1R_XDCAM_EX_Full.html) it is easy to handle. And it costs about half the price of the Sony camera.
My secondary camera was the Sony Alpha SLT-A77 DSLR with a variable focal length lens.  (See http://www.bhphotovideo.com/c/product/817858-REG/Sony_SLT_A77V_SLT_A77_Digital_Camera_Body.html).
This camera was perfect for night-time shooting when sound was not a critical factor and when safety was an important factor.
I have two main issues with any HDSLR camera. The first is that they don't have the sound-acquiring functionality that regular video cameras do. I know you can rig up special sound gear and two XLR imputs to these cameras, but I think this somewhat defeats the purpose of carrying around a compact camera in the first place. Having said that, with a small directional microphone mounted on top of the camera and some understanding of how to use the microphone to acquire decent sound, the camera worked just fine for me.
Check out the latter parts of these two films I shot on that Guatemala assignment.  Titled, "The Gangs," the first film includes a sequence at the very end showing a slum in Guatemala City that I shot with the Sony Alpha SLT-A77. I didn't want to be running around a slum, where people are so poor and their needs are so great, with a full-blown video camera. The little Sony worked fine.  You can see the film here: http://www.youtube.com/watch?v=Eu2gRjMyacc
Same thing with the second film, titled "The Researcher." Brenneman and I had to visit a church in a pretty sketchy part of town and I didn't want to lug around a big video camera, especially at night. See the film here: http://www.youtube.com/watch?v=E3wnOfHQemY
The second issue that I have with the HDSLRs is that I find it difficult to get a smooth zoom out of them. Not that I zoom a lot, but when I do I want the zoom to look smooth.
Getting back to the original point, pick your cameras for how best they fit your specific needs and your budget. And never be in a big rush to buy equipment, because in six months it might be out of date. If you have to buy, make sure you have an assignment to cover it.
Good luck and stay safe.
Bill Gentile
6 October 2013