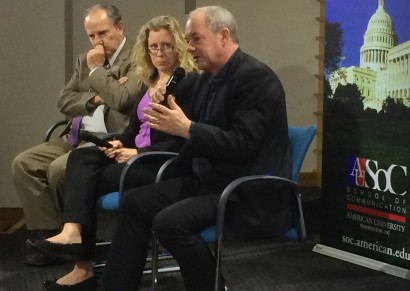 WASHINGTON, DC, 4 February 2015 — UK filmmaker Callum Macrae addresses a packed house at American University's School of Communication after the screening of "No Fire Zone," his award-winning documentary on human rights abuses during the 2009 campaign by the Sri Lankan military against Tamil rebels.
On the far left is Juan Méndez, professor of Human Rights Law in Residence, Washington College of Law. Since November 2010, Méndez has been the UN Special Rapporteur on Torture and Other Cruel, Inhuman and Degrading Treatment or Punishment. In the center is Carolyn Gallaher, associate professor, School of International Service. Gallaher focuses on two distinct research areas—organized violence by non-state actors and urban politics. I moderated the discussion from the podium.
In a wide-ranging discussion with the crowd, Callum talked about how he collected and sifted through hundreds of hours of footage of the offensive to patch together an extraordinarily powerful documentary, and how he verified the veracity of that footage.