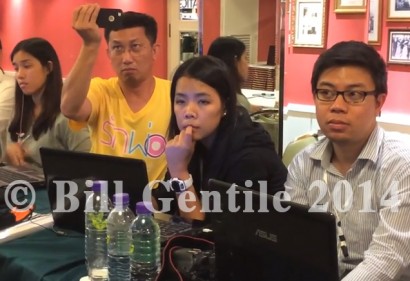 BANGKOK, Thailand, 13 December 2014 — During the first day of our workshop I demonstrate how to make a smooth pan without using a tripod. Start by facing the position you desire to be in at the end of the pan, then twist back to the point where you want to begin it. Now just relax your muscles and let your body return to its natural, unwound position where you end the pan.
Doing the shot this way delivers a smoother pan because you are not forcing your body into the pan. On the contrary, you are simply relaxing it.
To see the video, click HERE.
This is just one of the tricks of the craft that I've learned along the way. It's part of what I teach during my ONLINE Video Workshops. See http://videojournalismworkshops.com
Learn how to raise your voice with video.
There is something at work here deeper than simply putting on a video workshop. It's more than just teaching a skill. Or a craft. These events have become part of my mission and my purpose. I feel that, in addition to the skill or the craft, I'm also teaching people how to find and to cultivate community, how to have greater voice, how to RAISE their voices to have an impact. To make a difference. Take a stand. Be heard.
I don't know that I could put in the long, hard hours if there were no altruistic motive in play.