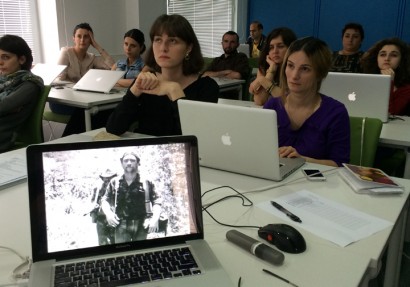 TBILISI, Georgia, 23 May 2014 — I delivered a lengthy presentation today to students of the Caucasus School of Journalism and Media Management in the Georgian capital.
I took them through the chronology of my visual work: The Sandinista Revolution, the Contra War, the Salvadoran Civil War, the Persian Gulf War, the invasions of Panama and Haiti, the wars in Iraq and Afghanistan.
I walked them through the progression from clips to sequence to scene to story. And then I taught them about the Six-Shot System.
We discussed how to make an impact with one's work. And then we talked about "community."
(Photo by Bill Gentile)
http://videojournalismworkshops.com