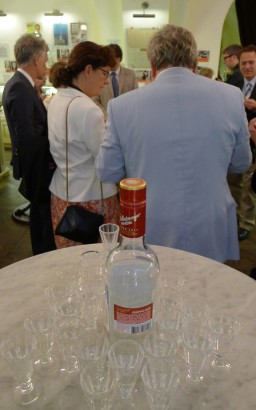 ST. PETERSBURG, Russia, 31 July 2013 – On our first night in St. Petersburg, our Russian hosts took us to dinner at the Vodka Museum. Aside from an explanation of vodka's history in their country, the Russians invited us to sample a variety of vodkas they had prepared for us — an offer we couldn't refuse.
The Russians proved to be terrific hosts during our four-day visit to their country. The organization, the accommodations, the food and the generosity of spirit were extraordinary.
I was in St. Petersburg for the 4th meeting of the U.S.-Russia Bilateral Presidential Commission (BPC) Sub-Group on Mass Media. The meeting included discussions on citizen journalism, journalism education and training, and media coverage/perceptions of Russia and the United States.
On Friday, I delivered a presentation on "citizen journalism," a methodology I've been teaching and preaching for some time now, and a methodology made possible largely by the revolution in technology. It's just one component of a broader methodology that we refer to as "backpack video journalism." I screened a couple of pieces made by students of mine in Cuba. We discussed how young people in particular, equipped with hand-held digital tools, now communicate globally, instantly and in a language, the visual language, that everyone can understand.
During the presentation, I discussed how I think video is the new language, particularly of American youth. It is the new literature. I discussed the visual storytelling language, the same language that I teach in my classes at American University, and in my Video Journalism Workshops. See http://videojournalismworkshops.com
The U.S.-Russia Bilateral Presidential Commission (BPC) is the premier forum between the U.S. and Russia to strengthen relations with each respective government and society.  President Obama and President Medvedev established the BPC in July 2009 to reset U.S.-Russia relations and engage the Russian government to pursue foreign policy goals of common interest for the American and Russian people.
Below, some of the artifacts stored in the Vodka Museum.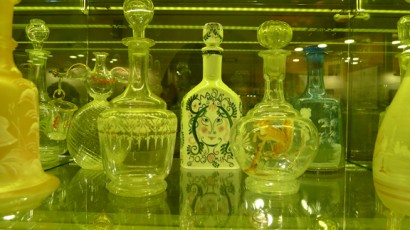 Below, a guide takes us through, and explains, the Vodka Museum.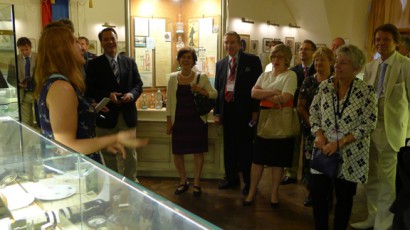 (Photos by Bill Gentile.)