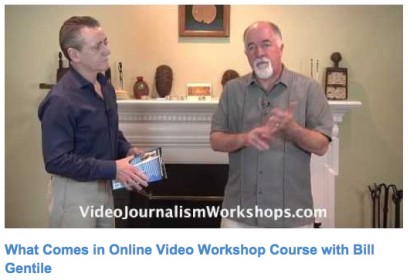 http://www.videojournalismworkshops.com Learn about what is included in the Online Video Workshop with Bill Gentile. Bill Gentile and Bruce Jones take you through the 14 videos for this online course
Join us for the Online Video Journalism Workshop and learn how to make compelling video documentaries. In this course we've molded the acclaimed, real-life Video Journalism Workshop by Emmy Award winning journalist Bill Gentile into 14 compelling and informative videos to reveal the secrets of making video documentaries.
• Learn to articulate story ideas.
• Capture powerful images and clean sound.
• Recognize and cultivate dramatic story arcs.
• Conduct compelling, in-depth interviews
• Write powerful treatments and scripts.
• Narrate stories.
• Edit for maximum impact.
To learn more about the Online Video Workshop please visit
http://www.videojournalismworkshops.com
Or join us on Facebook at https://www.facebook.com/VideoJournalismWorkshops
Best regards,
Bill Gentile
– See more at: http://videojournalismworkshops.com/blog/#sthash.lG8KNLRN.dpuf