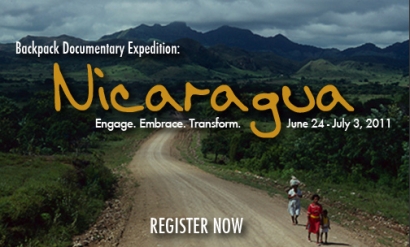 PAWLEY'S ISLAND, SC, 25 May 2011 — In response to a question from one of the participants of the "Backpack Documentary Expedition: Nicaragua" about backpacks, I always carry my camera gear (except tripod) with me when I board a plane. That way I know that when I arrive at whatever destination, I can walk off the plane and go to work. I never trust bag handlers to get my gear intact and on time to my destination.
And because of limitations on the size of carry-ons, I can get away with a small backpack and a handbag. I carry my laptop in a small backpack that I picked up at REI. Sound gear and other stuff goes in the backpack, as well. And I carry the camera either in a small handbag or just hanging off my shoulder. Again, I can walk off the plane and go to work.
Because our hotel in Nicaragua is so close to our work location, participants would be fine hand-carrying cameras with them to the field. Or they can acquire a decent backpack. I recommend the models which have moveable internal panels that you can adapt for any camera. These are quite good for field use, and will protect your gear from dust, rain and some hard bumps. These may be too big, however, to carry on a plane. So you might have to fill them with clothes and other items, check them in when you board the plane, then load them with the field gear upon arrival.
(Photo by Bill Gentile, 1988)