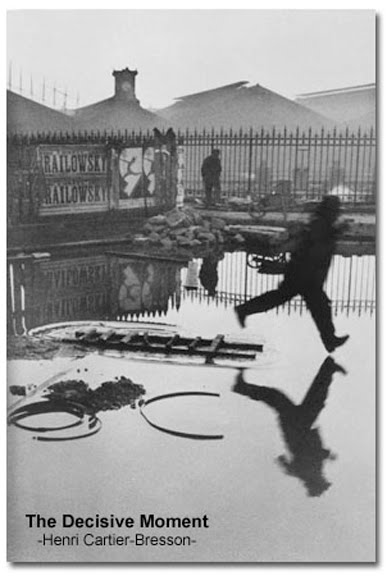 WASHINGTON, DC, 8 September 2010 — I participated in a conversation with bloggers on Rosenblum TV recently, which you may find interesting. Below see a version of my post about the transition from photojournalism to backpack journalism:
Photojournalists have difficulty making the transition to video partly because they've spent so much of their professional lives striving to capture what Henri Cartier-Bresson called, "decisive moment." (See above photo by Cartier-Bresson) It's the moment that encapsulates, embodies, or tells the entire story. For photojournalists, there is no beginning. No middle. No end. That moment in time IS the story.
I spent most of my early days as a journalist making pictures for United Press International and, later, for Newsweek Magazine. So I'm familiar with the predicament that we photojournalists often find ourselves in. I was fortunate, however, to have had the opportunity (or the financial necessity) to write. I spent my early days as a freelancer making photos but also writing and editing stories for UPI, as well as writing and reporting for ABC and NBC radio. So I developed a sense of "story" that extended beyond that decisive moment.
Most photojournalists are not that fortunate and Michael Rosenblum is right about the difficulty that so many of our colleagues have in making the transition. But their glasses are half full. What Michael refers to as "video journalism" and what I call "backpack journalism" are rooted more in the tradition and skill sets required for documentary photojournalism, than the 6 o'clock news.
The best photojournalists come to the new craft with an understanding of light, the absence of light, form, composition and motion. They understand how to make powerful images, these being the engine inside of visual communication.
This is not to say that transiting from the decisive moment to the dramatic arc is easy. It is not. But, given the skills they've acquired along the way, photojournalists bring a visual foundation to the craft that many others do not.
— Bill Gentile