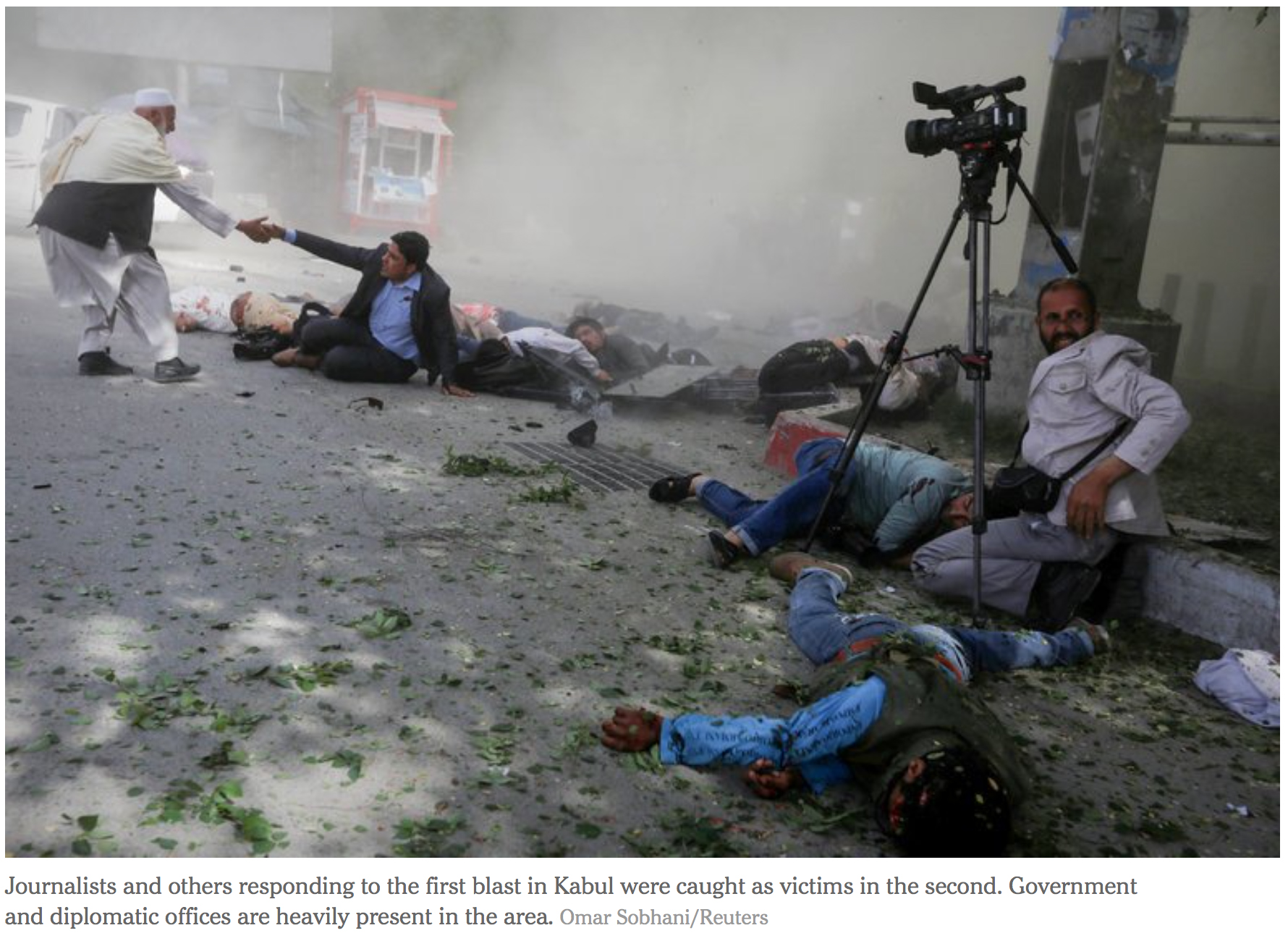 WASHINGTON, DC, 1 May 2018 — The killing of 10 journalists in Afghanistan yesterday was an attack not only on the brothers and the sisters of our craft. It was an assault on Truth itself.
Some 25 people, including nine journalists, died in a double suicide bombing in the Afghan capital of Kabul. In a separate incident, unidentified gunmen shot to death a tenth Afghan journalist in Khost Province. Members of ISIS claimed responsibility for the attacks.
Yesterday's victims, and scores of other colleagues killed and wounded around the world, are some of the most valuable — and the most vulnerable — members of our guild. They are Afghans in Afghanistan. Mexicans in Mexico. Salvadorans in El Salvador. Most are local hires whom Western journalists like me depend on for background, context and contacts to help us decipher their countries and their cultures so that we can do our job.
They toil at the grass roots level of information gathering. They are driven by a profound sense of duty to find and to disseminate Truth about their own countries. And like most Westerners, they believe that Truth is an essential ingredient for any free and democratic society.
But they also are the most vulnerable members of our craft. Mexico, for example, is one of the world's most dangerous countries to be a journalist. At least 104 journalists have been murdered there since 2000, while 25 others have disappeared and are presumed dead. None of the dead or disappeared are foreigners. All are Mexican. Impunity is nearly 100 percent.
According to the Committee to Protect Journalists, some 1,900 journalists and media workers were killed around the world between 1992 and 2018. The killings, threats and intimidation of journalists have profound and long-lasting impact. As I learned during a trip to Mexico last year to produce the pilot of a documentary series about freelance foreign correspondents, many Mexican journalists impose self-censorship as a safety precaution. Some media outlets have simply shut down.
As a result, our access to Truth is diminished. Our understanding of the world grows dark.
Yesterday's attack on journalists was a tremendous loss not just for Afghanistan. It was a tremendous loss for us all.
– Bill Gentile
School of Communication, American University
Founder, Foreign Correspondence Network (FCN)
Creator, FREELANCERS with Bill Gentile documentary series. See the sizzle reel HERE: https://vimeo.com/254574654