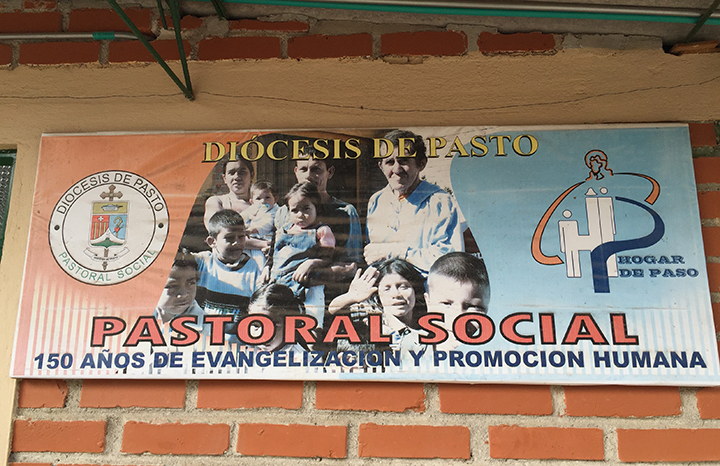 PASTO, Colombia, 30 June 2016 — My student and I made a brief trip to "Hogar de Paso," or "Place of Passing," today. It's a half-way house on the outskirts of Pasto, funded by the city mayor's office and operated by the "Pastoral Social," a branch of the local Catholic church.
The facility currently houses 39 people displaced by Colombia's protracted civil war. Mostly from the cities of Barbacoas, Tumaco and Putumayo, they have come to Pasto to flee fighting, drug trafficking and other deep social issues.
Residents are allowed to stay here for variable periods of time until they and their families find other places to live. I made these images in a way that would not make the adults nervous because they or their children might be identified, and out of simple respect.
Attached are images of a poster hanging at the entrance of the facility; residents watching television; clothes hanging; the city of Pasto made from the rooftop; and kids practicing soccer on the concrete patio of the entrance.
I'm on assignment for American University's Center for Latin American and Latino Studies (CLALS) to assist a student who won one of this year's AU-Pulitzer Center International Reporting Fellowships. Camila DeChalus is working on a film about how Colombian coffee growers, with the assistance of Catholic Relief Services (CRS) and its Catholic church affiliates, are coping with the impacts of climate change. The church here is deeply involved in this work.
We visited Hogar de Paso to give Camila's story some context. And perhaps more than anything else, the context in Colombia is a civil war that reportedly has claimed nearly half a million people killed and wounded over the past half century and deeply traumatized this society.
(Photos by Bill Gentile)