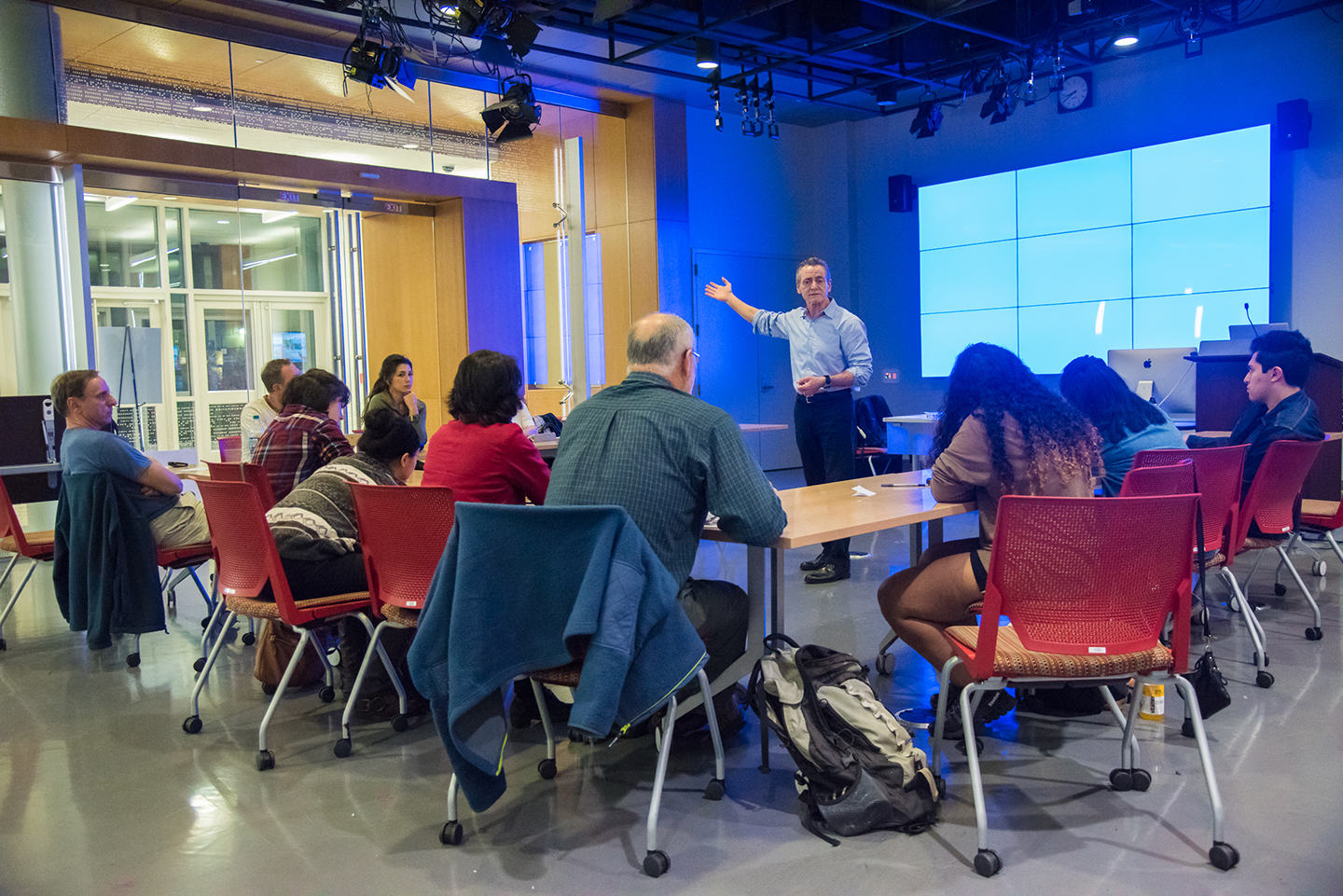 WASHINGTON, DC, 15 November 2016 — American University is featuring an article about my "Backpack Documentary en Español" class, the first-ever Spanish-language class to be taught in the School of Communication.
To read the article (in English), click HERE.
And below is a bit of information from my syllabus:
El primer curso impartido en español en la Escuela de Comunicación, Documental de Mochila en Español es un curso interdisciplinario impartido íntegramente en español para los estudiantes con alto dominio de la lengua. La clase es apropiada para los estudiantes de grado o de posgrado, así como los profesionales, que quieren aprender a producir, por ellos mismos, cortometrajes documentales para la televisión o Internet.
Este curso es el modelo de mi propia experiencia como periodista visual en el campo desde 1977, cuando fui a trabajar a Noticias de México como reportero / fotógrafo / editor. Un año más tarde estaba trabajando como corresponsal / editor / reportero gráfico en el United Press International (UPI). En 1985 cuando vivía en Nicaragua firmé en la revista Newsweek como fotógrafo Contrato para América Latina y el Caribe. En 1995 fui a trabajar con Vídeo News International (VNI), un audaz experimento puesto en marcha a mediados de 1990 y con sede en Filadelfia, Pensilvania. El fundador de VNI fue el primero en este país en entender que los avances en la tecnología digital podían revolucionar y democratizar el proceso de recopilación de noticias de televisión y la comunicación visual en general. Ahora, el Internet nos permite el acceso a los medios de distribución global.
Este curso se basa en la premisa de que un periodista de vídeo debidamente entrenado, solo o en un pequeño equipo de trabajo, puede contar historias con imágenes poderosas y palabras inteligentes, usando cámaras digitales de mano, de una manera más íntima, más inmediata, de comunicación más fluida de la se puede conseguir con un equipo de trabajo grande y de cámaras grandes al hombro — y por una fracción del costo. Las herramientas y las técnicas que se enseñan en este curso le ayudará a competir en el campo muy fértil y creciente que llamamos periodismo visual, o la comunicación visual.
El componente de "mochila" de esta metodología se refiere no sólo a la naturaleza compacta y la portabilidad de los equipos utilizados. También es una referencia a las aptitudes múltiples de sus practicantes. Durante este curso, usted aprenderá a utilizar algunos de los más modernos y sofisticados equipos disponibles. Y usted aprenderá las habilidades esenciales para la práctica efectiva del oficio.
Saludos,
Bill Gentile
(Photo by Jeff Watts)