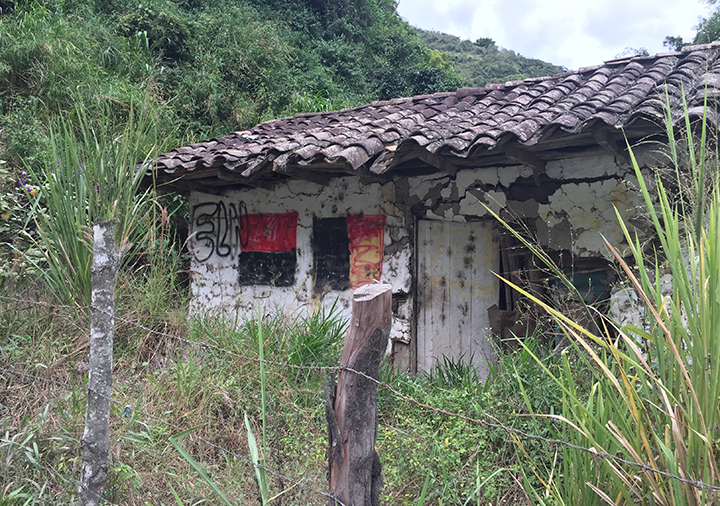 SAMANIEGO, Colombia, 28 June 2016 – The Colombian civil war that has claimed an estimated half a million dead and wounded over the past 50 years is not over yet, despite the peace accords signed this month in Havana, Cuba. We were reminded of this fact on our trip to Samaniego, a drive of three hours from the departmental capital of Pasto.
Negotiators for the Colombian government and the Fuerzas Armadas Revolucionarias de Colombia (FARC) or the Revolutionary Armed Forces of Colombia, signed the Havana peace accords earlier this month. However, a smaller guerrilla group fighting to overthrow the Colombian government has yet to sign a peace agreement with the authorities here.
During a visit to Samaniego, we passed this abandoned house on a country road winding through this mountainous region where coffee is king. We stopped for a moment so that I could photograph the graffiti. Look closely at the left side of the house near the black and red flag. ELN is the Spanish acronym for Ejercito de Liberacion Nacional, or National Liberation Army — which has yet to sign a peace agreement with the Colombian government. This graffiti is a declaration of the group's presence in this area.
Samaniego is a spooky kind of place, where newcomers are greeted with deep suspicion. I felt as if we were being watched during our brief stay. We were guests of Catholic Relief Services (CRS), which granted us a certain immunity from any of the armed groups contending for power and control of this region. CRS is treated with respect by the protagonists here, as its work is strictly non-political and is designed exclusively to help the poor.
I was told by persons who live here that, had we been without CRS chaperone, we likely would be stopped by persons asking our reason for being there. We could be stopped on dirt roads outside of town and asked questions, I was told. And if our interrogators did not like our answers to their questions, we could be detained and held for ransom.
I do not take this kind of information lightly. After being held for two days with Newsweek magazine correspondent Joe Contreras by Sendero Luminoso (Shining Path) Maoist rebels in Peru's Upper Huayaga Valley in 1989, I know how uncomfortable detention by insurgents can be.
Colombians in this area feel the presence and the pressure of living among competing forces every day. Agents of both the FARC and the ELN guerrilla groups, of the police and the army, of right-wing paramilitary groups, and of criminal, drug trafficking organizations, keep an eye out for suspicious persons and behavior.
Some of these players impose "taxes" on the civilian population.
"Nobody here drives a new car," one source said, because the guerrilla groups may demand from the owner a "tax" roughly equal to the value of the new vehicle.
I'm on assignment for American University's Center for Latin American and Latino Studies (CLALS) to assist a student who won one of this year's AU-Pulitzer Center International Reporting Fellowships. Camila DeChalus is working on a film about how Colombian coffee growers, with the assistance of Catholic Relief Services and its Catholic church affiliates, are coping with the impacts of climate change. The church here is deeply involved in this work.
So although the Colombian civil war is not over yet, the country is not yet at peace — and won't be until all Colombians decide that peace is what it wants.
(Photo by Bill Gentile)