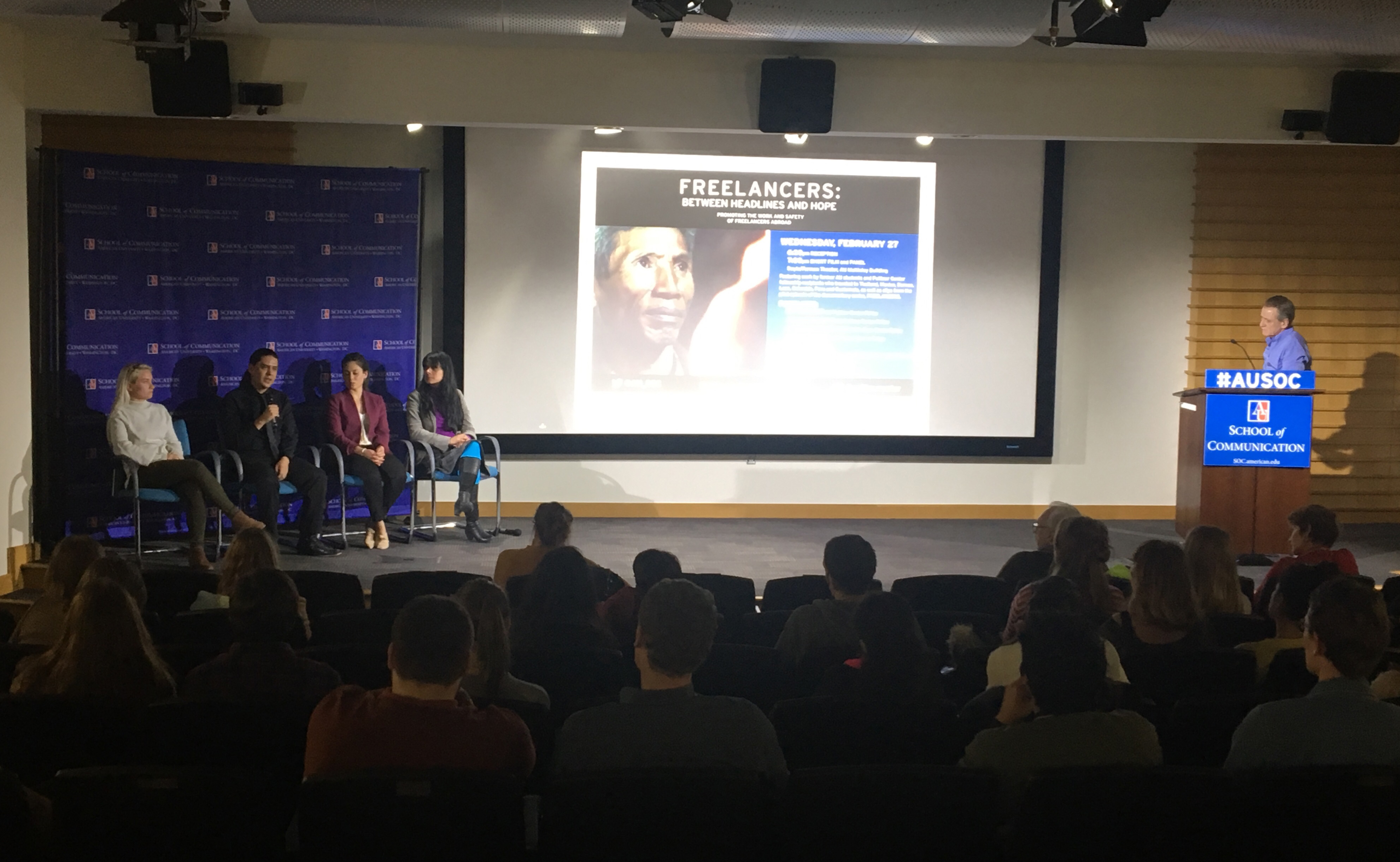 WASHINGTON, DC, 27 February 2019 — American University's School of Communication hosted a lively, robust, thought-provoking panel discussion with winners of the AU-Pulitzer Center International Reporting Student Fellowships who discussed their life-changing experiences in the field with members of a vastly diverse audience.
We all are so proud of these former students. They are the new face of freelance foreign correspondence. Below are my remarks delivered before a short film highlighting the panelists' work:
Good evening. Great to see you all could join us. I'm Professor Bill Gentile, a full-time faculty member and founder of the partnership between American University and the Pulitzer Center on Crisis Reporting.
Welcome to the School of Communication and to our event, FREELANCERS: Between Headlines and Hope. We call it that, Between Headlines and Hope, because that's where freelance foreign correspondents live and work. They search for Truth covering big stories or projects in their quest to live lives of meaning and purpose.
A Colombian colleague once told me that, "Lo importante es las huellas que dejamos," or, "The important thing is the tracks that we leave behind." And I believe that's the prime motivation of every practitioner of our craft. To make a difference. To leave some tracks behind.
There's something special about freelance journalists. In contrast to traditional, or staff correspondents, freelancers work without the institutional support and security routinely provided to staffers. They don't get steady paychecks. They don't get job security. A lot of the correspondents don't have proper life or health insurance. And I use the term, "correspondents," loosely. I'm talking about all journalists, whether they work primarily in print, photo, video, radio, documentary, etc.
What's been happening for years now, decades really, is that most of the mainstream or "legacy" media continue to shut down news bureaus and cut staff around the world. The people who run those mainstream outlets say staff correspondents are too expensive. So into that void left by mainstream media go the freelancers. Young people, like many in this room, rushing to join the global conversation that we call journalism.
And that can be a problem, because too often we see people going out to practice the craft without proper training and they get hurt or go missing. The Committee to Protect Journalists reports that, between 1992 and today, one thousand four hundred and fifty one journalists and media workers, technicians, fixers, translators, have been killed around the world just for doing their jobs. Last year alone, the year 2018, 251 journalists around the world were imprisoned, just for doing their jobs.
And many of the dead and imprisoned are freelancers.
So. Between Headlines and Hope. We're here tonight because this School of Communication and The Pulitzer Center on Crisis Reporting are part of a movement largely of nonprofits and media outlets supporting freelancers working in foreign countries. We're trying to help the public understand the complex and sometimes dangerous work of journalism – and the rationale of the devoted men and women who dedicate their lives to their craft. By doing so, we hope to undermine the baseless but dangerous accusations of "fake news" and "enemy of the people" increasingly levelled against them by dictators and despots around the world.
In recent years, the AU-Pulitzer Center partnership has supported winners of the International Reporting Fellowships traveling to Thailand, Mexico, Borneo, Laos, Colombia, Peru and Guatemala. Our panel this evening includes four fellowship winners. And we'll show you some of the impressive work done by all seven of the fellows. We'll also share some of the work done by an AU graduate student who shot the pilot episode of my documentary series on freelance foreign correspondents working in Mexico.
We'll end the evening with a Q&A and brainstorming session on how we all can further the mutual goal of supporting and protecting freelance journalists working overseas.
ONE LAST ITEM: We now are accepting applications for this year's International Reporting Fellowships. Please search the SOC web site, or contact me for applications. Deadline for applying is midnight on March 31.
(Photos by Esther Gentile)