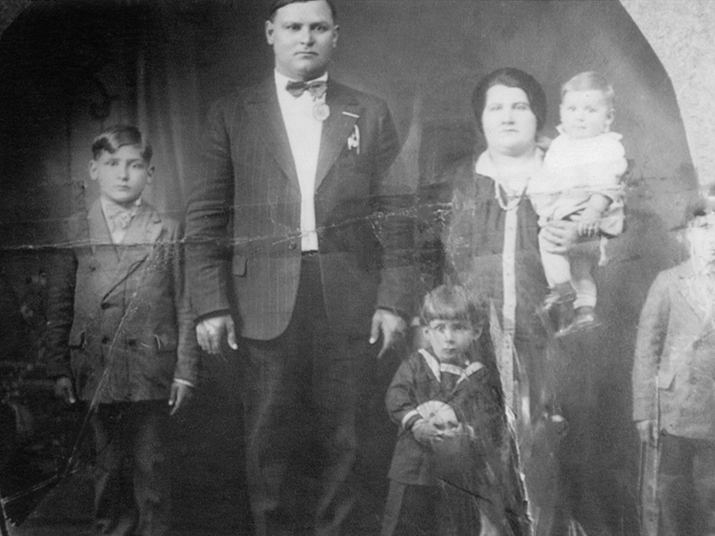 In one of my mother's photo albums there is a picture of a young family. Her father, Tada, is too big for his suit and his hands are too big for his body. Her mother, Nana, is heavy-set and sturdy. She married my grandfather when she was 15 years old. And the children look like, well, they look like the children of Italian immigrants.
Tada had become a foreman at the Jones & Laughlin Steel plant and a kind of "godfather" but not a Mafia don in the local Italian community, the vast majority of the community being deeply afraid of that criminal organization. Perhaps because of his imposing 6 feet two inches, 260 pounds and ferocious capacity for work, Tada rose quickly through the ranks of mostly immigrant laborers. He became a working foreman, still performing physical labor but in charge of a team of men. As his friends and relatives in Bugnara learned of his success in America, one by one they wrote Tada asking about jobs and opportunities in the New Country — and one by one my grandfather sponsored them and got them work in the mills. My mother's father was a man of respect, something that he gave generously but demanded in generous return. And this ability to secure jobs ensured Tada all the respect he demanded. His manner was withdrawn. Never a show-off. Because his house was only two stone throws from the front gates of the steel mill, Tada lumbered off to work every day where he helped re-line the insides of vessels into which molten steel was poured, returning for a "lunch" of his homemade wine, then back again for the remainder of his shift. My mother remembers him coming home every evening covered with the white lime used in re-lining the vessels, looking "like a big snow man."
Tada was the keeper of Italian tradition in West Aliquippa. He purchased a life-size statue of St. Mogno, the patron saint of his village in Italy, and had it shipped to the United States so that each year the local Italian community would carry it through the streets of West Aliquippa in processions honoring their holy patron. I remember walking with my family, years after Tada had passed, as the procession cruised the brick streets of the town. It was like a scene from the film, "Godfather II" — but in real life.
(Copyright photo courtesy family of Mary T. Gentile)
xxx
NOTE: This excerpt is one of a series preceding the release of my upcoming memoir. The manuscript is titled, "WAIT FOR ME: True Stories of War, Love and Rock & Roll." Read more when the book is published.