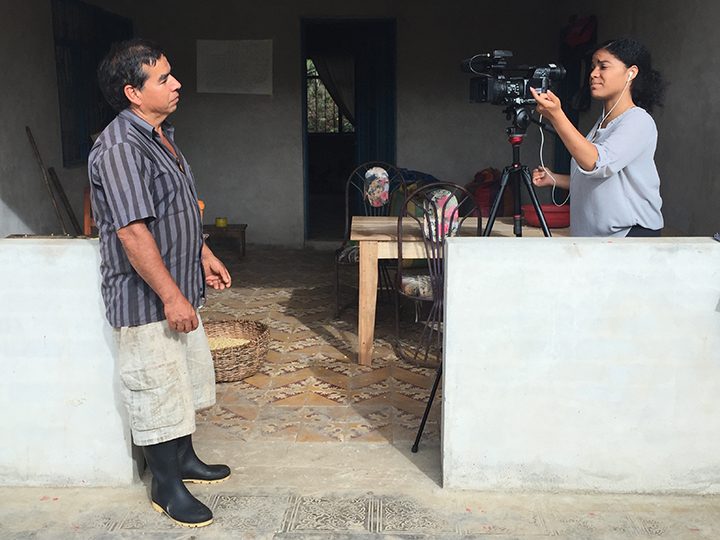 SAMANIEGO, Colombia, 28 June 2016 — Camila DeChalus interviews a Colombian coffee grower about how climate change impacts his livelihood.
I'm on assignment for American University's Center for Latin American and Latino Studies (CLALS) to assist Camila, who won one of this year's AU-Pulitzer Center International Reporting Fellowships. She is working on a film about how Colombian coffee growers, with the assistance of Catholic Relief Services (CRS) and its Catholic church affiliates, are coping with the impacts of climate change. The church here is deeply involved in this work.
We arrived in Colombia on 18 June and have been documenting the work of CRS, which has provided us access and assistance essential to our endeavor.
Since our arrival, Camila and I have been searching for one coffee grower whose challenges imposed by climate change embody those facing tens of thousands of poor coffee growers across this country. The idea is that the most effective stories are those told through the prism of one person's experience. One person. Or one team. Or one platoon. We call them "characters." It's easier for an audience to relate to one person or a small group of persons, than it is for an audience to grasp a story built exclusively on statistics or soul-less numbers and information.
We believe we found that character when we met Fidel, whom you see Camila interviewing in one of these images. He lives in an area where coffee is everywhere. We arrived at the peak of the harvest season, where coffee beans are seen drying in the sun on sidewalks, on basketball courts, on the streets and backyards.
Fidel faces longer, dryer summers that affect his coffee crop; higher temperatures that increase the incidence and the severity of diseases like the dreaded "coffee rust;" diminishing supply of water with which he can irrigate crops. As climate change continues, sadly, Fidel's challenges will multiply.
And it is farmers like Fidel, and his "compañera" Liliana, whom CRS is trying to help.
As some of you know, the content of documentaries changes once one moves from production to post-production. But Camila and I are reasonably confident that Fidel and Liliana will be a significant component of Camila's film. They are excellent examples of how issues created by climate change challenge coffee growers in this South American nation. And how the Catholic church helps poor farmers face those issues.
(Photos by Bill Gentile)