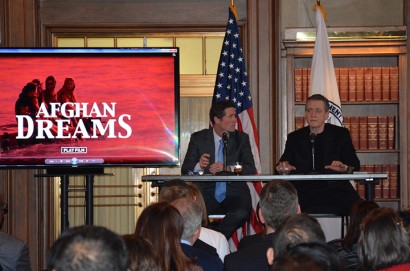 WASHINGTON, DC, 3 MARCH 2015 — We conducted a screening of our film, "Afghan Dreams," at the U.S. Department of Commerce. The film documents four Afghan law students, all female, as they defy all odds to compete in an international competition of commercial law in Hong Kong. The team was trained by lawyers working at the Department of Commerce.
We followed up the screening with a panel discussion. Many of the questions dealt with the challenges the young women faced by challenging cultural rules regarding study and travel. It's been a deeply gratifying journey.
The film is a co-production with American University's School of Communication.
To my right (on the left side of the picture) is Steve Gardner, of the Department of Commerce.
(Photos by Karen Krugman)