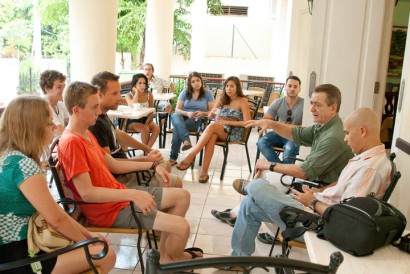 HAVANA, Cuba, 9 September 2012 — I meet with AU Abroad students at their hotel in Havana, Cuba, during the first days of their semester in Cuba, which began 5 September. On the far right is Carlos Ernesto Escalona Marti, who is teaching my "Photojournalism and Social Documentary" course this semester. I'm in the green shirt.
Some of the students are using Sony's new Alpha 77 DSLR cameras, one of the latest to arrive on the scene of backpack video journalism. Sony has loaned American University's School of Communication more than a dozen of the cameras, a handful of which are being used by our students in Cuba. And they've done so because of our Backpack Journalism Project, which I launched in 2010, and which has become quite a success.
American University is only one of eight in the United States to receive the Sony "loaners." AU Abroad takes about 1,000 students to study overseas each year. Cuba is one of those locations.
We now are in full throttle of the technological revolution that makes the methodology of video journalism possible. These handheld cameras, which are highly regarded by young documentary filmmakers, can help produce a brand of visual communication far more immediate, far more intimate than can larger, shoulder-held cameras with extended crews.
I'll be returning to Havana this semester, probably in November, to check in on our students — and the work they're doing with the new Sony cameras.