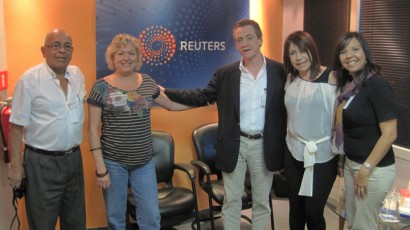 WASHINGTON, DC, 10 May 2012 – Got back last night from a weeklong trip to Caracas, Venezuela, teaching and promoting backpack journalism. Funded by the U.S. Department of State, the trip was scheduled to coincide with World Press Freedom Day. (See attached photos.)
Perhaps more than any other visit that I've made to Venezuela, I believe this one stands out as the most gratifying on a personal as well as professional level. The trip included presentations, a two-day Backpack Journalism Workshop and a series of interviews with Venezuelan and foreign journalists.
The highlight of the week was the time spent at Andres Bello Catholic University (UCAB), where some 90 students from across the institution attended my Thursday 10 May presentation, "Technology and the New Age of Information." About 30 of these students attended a two-day Backpack Journalism Workshop. The workshop was a great success, with students arriving early, leaving late and working hard all day in between. All of them finished their projects on time.
It was at UCAB that I was so deeply impressed with the quality and the character of the young generation of Venezuelans. I found their intelligence, their maturity and their optimism to be truly gratifying.
On Monday 7 May at Monteavila University, I repeated the "Technology and the New Age of Information" address to a classroom of about 40 students. Despite the fact that only a handful of those attending the event envisioned a career in the field of communication, most of them seemed compelled by the examples of my work that I presented, and by the idea that technology was democratizing the international dialogue that we refer to as "journalism."
An afternoon interview with journalists from El Universal provided another opportunity to spread the idea that technology and the Internet are democratizing communication by making the tools of the craft available to vast numbers of ordinary citizens. Curiously, I found myself talking to a team of journalists that included a reporter, a photographer and a videographer — about how multi-media journalists like myself now can work alone. My hope is that they see the power and the promise of the methodology that I presented there. I hope they weren't offended.
On Tuesday 8 May, I visited the Foreign Press Association at the Reuters news bureau, where a handful of members discussed the challenges facing them in this time of government pressure and deep polarization of Venezuelan society. I advised them to maintain close contact with organizations like the Committee to Protect Journalists (with which I have a good working relationship) and Reporters Without Borders.
At Venevision, I was received by an administration and staff who gave a tour of the facilities and with whom I discussed at length the challenges and the opportunities presented by the revolution in technology that we employ to practice our craft. We discussed the methodology of backpack journalism and how I use it to participate in an increasingly inclusive global conversation. It's all part of the broad endeavor to employ journalism to bring about positive, democratic change.
Thanks for following.
Above, I meet with colleagues at the Venezuelan Foreign Press Association, which is housed at the Reuters bureau in Caracas. From left are Jota Rodriguez of the Agencia Photographer Press International; freelance fixer/producer Luisa Berlioz R.; myself; Lisett Gonzalez of Venevision; Andreina Flores of Radio Francia Internacional and RCN Radio Colombia.
Below, I'm interviewed at Venevision. To my left are Eduardo H. Croes of the U.S. embassy; Jose Ramon de la Cotera, vice president of information and opinion at Venevision; and Sol Vargas Arnal, director of Internet content.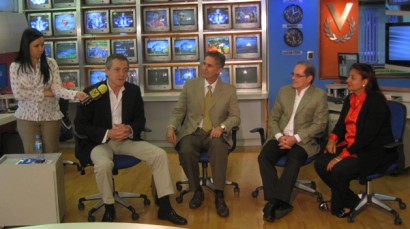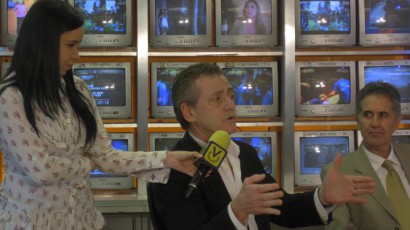 Below, the closest I'll ever get to being an anchor: