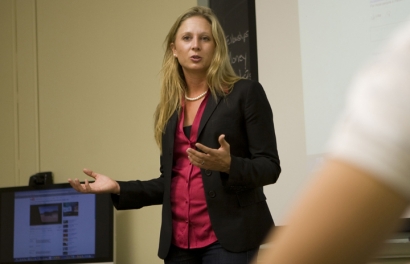 WASHINGTON, DC, 7 October 2010 – I was pleased but not surprised. Not even when she dropped me e-mail messages or phoned from places like Kabul or Kashmir. I became accustomed to it. To her success, that is.
I knew Rebecca Byerly would be successful the first time I met her. She came to my office at American University's School of Communication and told me she was going to be a foreign correspondent. I gave her advice and names of friends, colleagues, contacts to help bridge the gap between my office and the far-off places she wanted to visit.
In 2006 away she went. To Afghanistan, India, Mongolia, Cambodia, Libya, Kashmir. Mostly as a backpack journalist, she's worked for National Geographic, CNN and Al Jazeera. She got grants from the Pulitzer Center for Crisis Reporting and others.
After Rebecca's recent visit to my Photojournalism and Social Documentary class, I told my students there was one critical thing that distinguished her from them. That, as far as I knew, the students did not have it – at least not yet. And it's this: At some point Rebecca had made the decision and the commitment to be a foreign correspondent. No matter how hard the work. No matter how deep the sacrifice. No matter how long the haul. That's what she wanted. That's what she was going after. And now, that's what she's got. She is a success.
Rebecca Byerly is the most recent participant the Backpack Journalism Project's visitor series at American University's School of Communication. To watch video clips of Rebecca's visit to my class, go to my Vimeo account, Backpack Journalist. Or go to my YouTube account. (Photos by Rachel Ellis)
– Bill Gentile