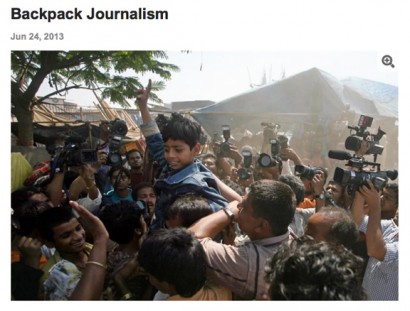 WASHINGTON, DC, 25 April 2013 — Here's the ad for the workshop I'm conducting in London on 24-28 June 2013. The Backpack Video Journalism Workshop is sponsored by the Thomson Reuters Foundation, which also is sponsoring a May workshop in Guatemala.
The London event will include working journalists from around the "developing world." I'm really excited about this one. I see it as yet another opportunity to spread the craft that I've been preaching and practicing for a number of years now. To see the whole ad, click HERE.
These two workshops only reinforce my sense that the methodology which we refer to as "backpack video journalism" is taking hold in a very big way. From citizen journalists who want to have an impact, to working journalists who want to create a more immediate, more intimate version of visual communication, this methodology is the way of the future.
But as I keep saying, the key is the ability to "speak" the visual storytelling language, which must be learned and practiced as any other language. Otherwise we're just out there practicing "spray and pray."