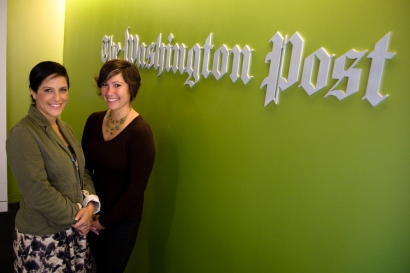 WASHINGTON, 22 January 2011 — Maria Howell (R) is on a roll.
Last summer she was the winner of the Associated Press/American University Backpack Journalism Foreign Internship that took her to the AP bureau in Jerusalem. Last fall she took on a backpack journalism internship at WashingtonPost.com. And this week she begins a backpack video journalism internship at USA TODAY, the country's largest circulation newspaper.
Pictured with Maria above is Alexandra Garcia, a graduate of American University's School of Communication and now an Emmy-winning multimedia journalist at WashingtonPost.com.
The work of both Maria and Alexandra are examples of the power and the promise of the methodology that we refer to as "backpack journalism."
(Photo by Evelio Contreras/The Washington Post.)