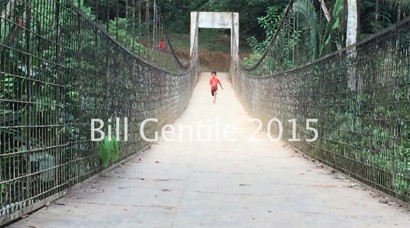 http://videojournalismworkshops.com
SARAYAKU, Ecuador, 28 June 2015 – We arrived in Sarayaku after a five-hour canoe ride down the Bobonaza River. I was struck by the foot bridge that members of the community use to traverse the waterway. It's a noisy, squeaky, shaky, sketchy affair — and a gift for any filmmaker. On it I was reminded, once again, of the wonder of our craft.
A kid sees me shooting video of people crossing the river. I'm crouched down on one knee and he stands behind me watching the screen of my iPhone 6+. Doesn't say much. I suspect he'd never seen a cell phone before. There are no phones and no televisions in the sprawling, autonomous territory where about 1,200 Kichwa Indians live in seven separate communities. But somehow he understands what's going on.
So the kid watches what I'm doing and then decides to give me something really cool. He runs to the opposite end of the bridge, then turns back toward me and races at me. He's a little barefoot locomotive. He gets closer and I'm not sure whether he's going to crash into me or swerve away. Then at the last moment he just slides right by me – and I don't see him again. But I remember his smile.
And that's the moral of the story. That's why we do this. It's what makes it worth the discomfort, the time away from home and family, the insect bites on your skin, the parasites in your gut, the ache in your knees, the hard memories of colleagues chewed up in the fray.
It's about those moments that we exchange with total strangers. Those moments that enrich our lives, that broaden and that deepen our humanity. It's the smile on a kid's face.
To see this boy run, CLICK HERE.
I was on assignment for American University's Center for Latin American and Latino Studies (CLALS), working on a short film about religion and the environment.