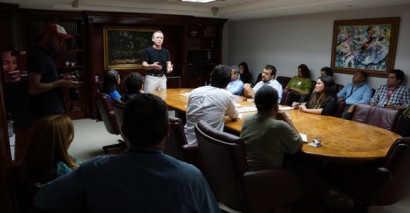 PANAMA CITY, Panama, 8 May 2013 — The journalists at La Prensa typically work in "silos," meaning that reporters usually write stories and "los graficos" usually generate visuals. Having said that, there is some overlap, and a limited number of the staff actually do both.
I had a great time discussing video journalism with them, as well as the promise and the challenges that the craft poses.
They actually published a couple of stories of my visit. You can see them at  http://www.prensa.com/impreso/vivir/la-huella-de-un-reportero/176347 and http://www.prensa.com/impreso/vivir/recuerdos-y-consejos-de-gentile/176348.
(Photos by Julie McKay)