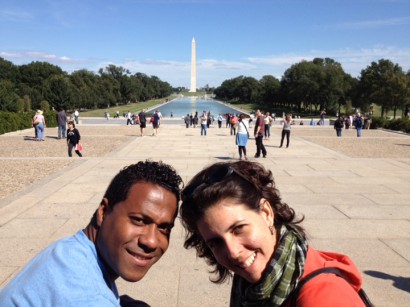 WASHINGTON, DC, 19 September 2012 — Cuban video journalists Maria Elisa Perez and Duniesky Canton Fernandez take some time off from presenting their latest film to tour the nation's capital, including the Mall and the Washington Monument. Winners of a documentary competition sponsored by American University's Center for Latin American and Latino Studies (CLALS) the Cubans are visiting the United States for the first time to screen the documentary they made about public housing in Havana. This trip marks the first time either of them has visited a foreign country.
Their film is called, "Solar del 11." They made the documentary during a Backpack Video Journalism Workshop that I conducted in Havana during fall semester 2011, when I accompanied a group of AU Abroad students studying in Cuba, and taught my "Photojournalism and Social Documentary" course. CLALS Director Eric Hershberg funded the workshop with a grant from the Reynolds Foundation. (Photos by Esther Gentile.)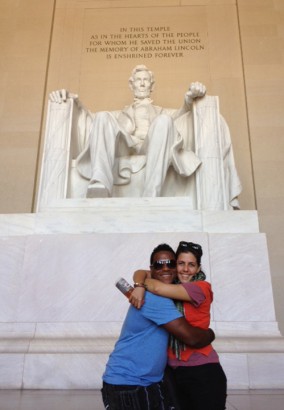 Above, Maria Elisa and Duniesky at the Lincoln Memorial.