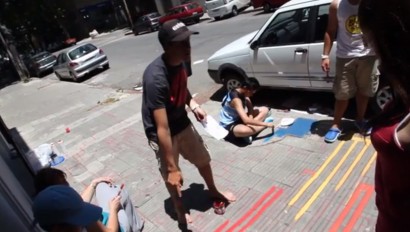 http://videojournalismworkshops.com, WASHINGTON, DC, 23 December 2013 — One of the most interesting films made during our recent Backpack Video Journalism Workshop in Montevideo, Uruguay, was done by Juan Marra about a young man who paints the sidewalks near his home in an effort to brighten up the neighborhood.
This is just another example of how stories present themselves to those of us who open our eyes, and perhaps our hearts, in order to see and to feel them. You don't have to go to Syria to find a good story. There's probably one, on your own block, waiting for you to tell it.
The five-day workshop was organized by Valentina Quagliotti, an exchange student at American University in 2010. Valentina is the founder of Ikusi, a non-profit dedicated to making positive social change with video. My trip to Uruguay was funded by the U.S. Embassy in Montevideo.
http://videojournalismworkshops.com