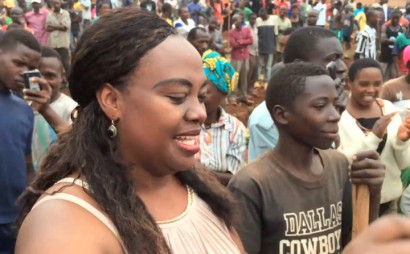 KIGALI, Rwanda, 26 July 2014 — I've learned to put the best material first in the films I make. Studies show that we have a limited time — just seconds, really — to engage an audience either intellectually or emotionally. If we don't "hook" them in that brief time period, we lose them.
I'm making a short film, titled "Born From Blood," about my recent return to Rwanda after having visited there for the first time in 1996 when a colleague and I were on assignment for ABC's Nightline With Ted Koppel to make a piece on the women raped during the 1994 Genocide.
A young Tutsi woman, Chantal, was our interpreter and guide on that visit. And for the past five years she's encouraged me to return to her country to witness the transformation of Rwanda since my first trip.
The attached clip shows Chantal visiting a community work project in Kigali. It's fun and it's exciting. I may begin the film with this clip. To see the clip, click HERE.
This is the kind of lesson that I teach at my Video Workshops. To learn more, click HERE. My next workshop is scheduled for October 2-5, 2014, in Washington, DC.
If you want to take the workshop ONLINE, click HERE.
Either way, please contact me with questions.
Best regards,
Bill Gentile