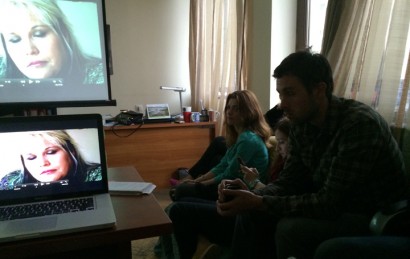 TBILISI, Georgia, 22 May 2014 – Journalists at Studio Monitor watch one of my films during a presentation today on backpack and citizen journalism.
Studio Monitor is the premier outlet for investigative journalism in Georgia. During my visit today, members of the organization showed me some of the great work they've been doing. And they had great questions and comments about the craft.
What an extraordinary group of young, idealistic and courageous journalists. They remind me of my early days in Central America when so many local journalists stepped into the fray in hopes of making a better life for their countries and for their countrymen and women.
Such an honor to meet and to work with them. I'm here in Georgia at the invitation of the U.S. Embassy. My two-week visit includes a series of workshops, presentations and visits.
(Photo by Bill Gentile)