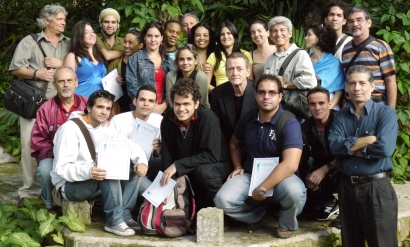 HAVANA, Cuba, 5 November 2011 – Students who attended the first-ever Backpack Journalism Workshop at the Jose Marti International Institute for Journalism pose for a group photo with their new diplomas, their talent and their unbridled enthusiasm. A few of the students unfortunately could not make this last day of the five-day event when we screened their work, but this gives a sense of the range of professionals who put aside their jobs and their personal responsibilities to learn more about our craft. Five of the attending students traveled from the provinces to Havana in order to attend. According to the Institute's Assistant Director Ileana Gonzalez Lopez, (at my immediate right) this workshop is the first the Institute has hosted to include the range of hands-on experience from pre-production, production and post-production of video stories for television and the Internet.
I've had the privilege to spend time with these colleagues, some of them now friends, because I'm here in Cuba for fall semester with a group of American University students participating in our AU Abroad program. In addition to teaching my "Photojournalism and Social Documentary" class, I'm conducting Backpack Journalism Workshops and presentations, as well as working on freelance video stories.
To see the informal group photo, see my Facebook page.