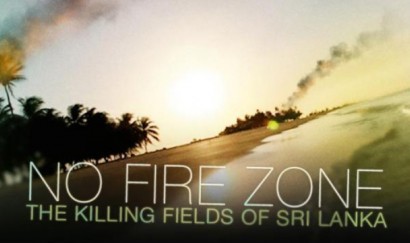 WASHINGTON, DC, 3 January 2015 — Award-winning documentary filmmaker Callum Macrae is on hand Wednesday, February 4, 2015, at American University for the screening of "No Fire Zone," which tells the story of the final 138 days of the 26-year Sri Lanka civil war and sheds light on the government's brutal military offensive that saw between 40,000 and 70,000 civilians die.
The screening and discussion are part of the launch of the Pulitzer Center's Campus Consortium partnership with American University.
"No Fire Zone" documents war crimes, summary execution, torture and sexual violence with direct evidence recorded by both victims and perpetrators on mobile phones and small cameras.
The February 4 event should be a fascinating intersection of documentary filmmaking, human rights activism and international law. It's just another way of Raising Our Voice With Video. This is what I teach at American University, in my LIVE Video Workshops (see http://videojournalismworkshops.com/live) as well as the ONLINE Video Workshops (See http://videojournalismworkshops.com).
This February 4 event is open to the general public. For details, click HERE. Please feel free to contact me with questions at [email protected]
Image by Callum Macrae. Sri Lanka, 2014.