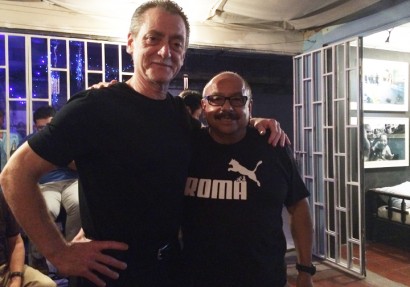 SAN SALVADOR, El Salvador, 19 September 2014 — The last night of my five-day journey to El Salvador certainly was the most gratifying.
Not only did I have the opportunity to meet old friends and colleagues that I haven't seen since last working there in 1990, but I had the extraordinary honor of meeting and sharing with a new generation of Salvadoran journalists.
Pictured with me here is Luis "La Muneca," Romero, who might be considered the Honorary Dean of the Salvadoran Press Corps.
(All Photos by Julia Salazar de Duarte)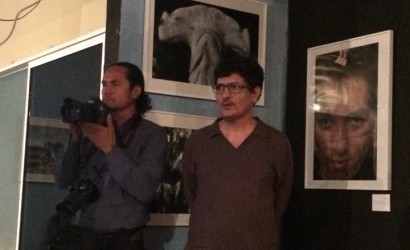 Above right, Edgar Romero who, along with his wife Enayda Argueta, own and manage Fotocafe, at the event. On the left is photojournalist Oscar Machon.
Above, patrons of Fotocafe watch a film I showed there.
Below, Luis "La Muneca" Romero, myself, Oscar Machon. Bottom, Mike Goldwater (left), who covered the 1980s civil war, and Edgar Romero.