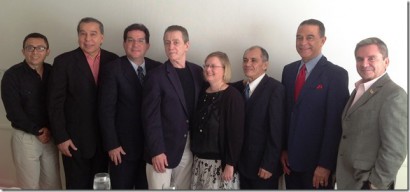 PANAMA CITY, Panama, 8 May 2013 — During my visit, I had the opportunity to breakfast with some of the key owners of Panamanian media outlets. From left are Juan Luis Batista, Bolivar Aleman, Guido Rodriguez, myself, Julia McKay of the U.S. Embassy in Panama, Rafael Candaneda, Guillermo A. Adames and Hernan Posada.
We had the opportunity to discuss how technology had opened up vastly greater opportunities for media owners as well as practitioners, and how citizen journalism has become an increasingly important component of the broader journalism landscape. The breakfast was held at the Club Union.
Below, the view outside Club Union.