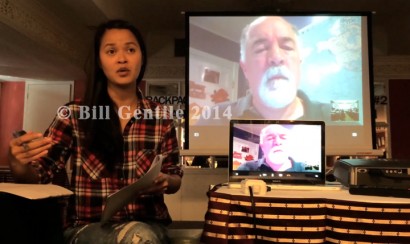 http://videojournalismworkshops.com, BANGKOK, Thailand, 15 December 2014 – So you've finished your video. Now, what do you do with it? How do you get it out there, in front of people, so it can have an impact? To answer these questions, I Skyped designer and Internet marketer Bruce Jones into the third day of our workshop in Bangkok.
Click HERE to watch part of Bruce's presentation.
Bruce attended my first ever Video Workshop in 2008. And we've collaborated ever since. He's been a regular participant in my Video Workshops, either in person or via Skype. He produced my Essential Video Journalism Field Manual. He helped produce our ONLINE Video Workshops. He's a trusted colleague and friend.
His participation in this most recent event was a highlight for all. Participants loved the information Bruce brought to the table. He helped me answer students' questions about what they do with their videos once they are finished making them. This video is just a snapshot of the kind of material that Bruce covered.
On the last day of the workshop I showed students the Internet presence that I had built, in accordance with much of what Bruce discussed during our workshop. It was because of that Internet presence that the Thai Broadcast Journalists Association had found me on the Internet and asked me to come to Thailand in the first place. So the system really works.
This last workshop was a deeply gratifying experience. Students learned a new language. The visual storytelling language is universal. They learned how to make powerful, compelling videos. They learned how to Raise Their Voices with those videos. And they learned how to be heard, to have an impact, and to promote change.
They learned how to establish their presence on the Internet, using the videos they produced during our event. And they learned how to create community, to connect with other communities, to cultivate these communities, and to join the international dialogue about issues that are important to them, their families, their communities and the country they live in.
This is what I teach in my ONLINE Video Journalism Workshops (see http://videojournalismworkshops.com) and in my LIVE workshops (see http://videojournalismworkshops.com/live).