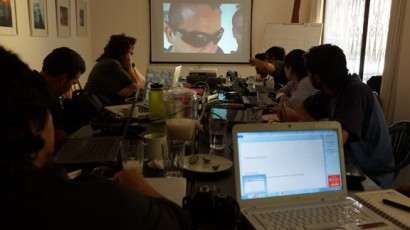 GUATEMALA CITY, Guatemala, 21 May 2013 — Here are some shots from the video journalism workshop today, the second of our five-day event. Today is the first day of Production. Students headed out this morning to begin constructing the visual foundations of their 3-5 minute documentaries.
Yesterday we covered the visual alphabet, the Six-Shot System, character and informal interviews. When the students returned from the field today, we critiqued their work, then dove into formal interviews, dramatic story arc and script, among many others.
The workshop is funded by the Thomson Reuters Foundation and hosted by Nancy McGirr and her Fotokids.
Above and below, students review their own work.