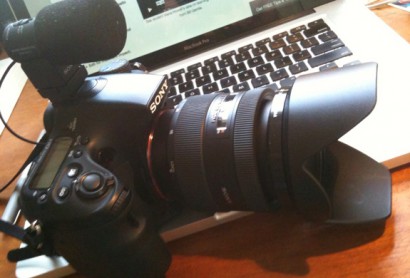 WASHINGTON, DC, 12 January 2013 — I returned last night from an 11-day video assignment on gangs and the evangelical church in Guatemala. I documented the work of Robert Brenneman, of St. Michael's College in Colchester, Vermont. Brenneman is the author of, "Homies + Hermanos: God and Gangs in Central America." He returned to Guatemala this month to follow up on interviews with former gang members. The assignment was for American University's (AU) Center for Latin American and Latino Studies (CLALS).
I took with me two cameras, one of the Panasonic HMC150s that we use at AU, and a Sony Alpha77, pictured here. Sony loaned 15 of the Alpha77s to AU's School of Communication in support of our Backpack Journalism Project. I'm particularly glad that I took with me one of the Sony cameras. It turned out to be a critical component of the backpack video journalism toolbox that I took with me to Guatemala. Especially when I was out at night making video of Brenneman and some of the other subjects associated with the project, I was delighted to have a camera that was not as obtrusive and obvious as one of the conventional hand-held video cameras.
I still have reservations regarding any HDSLR's sound capability, but I was surprised at how well this camera performed. I'm still not ready to rely exclusively on one of these for an entire project, but I now appreciate how critical they can be when used in conjunction with a more traditional tool.